Description
Overview & Schedule of Events:
10/15/22
9:30am – SUV pick up at your home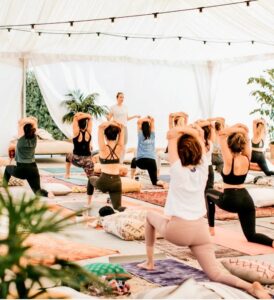 11am – POOLSIDE BRUNCH
Local farm eggs with local and just picked veggies, granola & local berries, fresh squeezed juices and scones & jam.
NOON SPEAKER
1pm – HARVEST LUNCH:
Building your own wraps with optimum health, vibrant and ease in mind
2pm – ACTIVITY:
Choice of: Orchard walk / water aerobics and / or painting in Nature
3:30pm – Transportation to casitas and casita check in (if not already)
4:30pm – ACTIVITY:
Yoga and meditation
5:30pm – CHARCUTERIE MIXER
6:30pm – ALFRESCO DINNER:
Cleansing Alkaline Cucumber waters and local wines paired with dinner. Trio of local harvest soup, harvest bounty salad, locally farmed chicken grilled with veggies (Vegan option available).
7:00pm SPEAKER
Cooking in color: Eating the full spectrum Healthily, locally and sustainably
8:00pm – ACTIVITY:
CREATING A GARDEN SEED LIBRARY
& ASSEMBLING PEACE & CALM SACHETS THAT ARE MADE AS AN ACTIVITY TO PROMOTE SLEEP!
8:30pm – DESSERT BY THE BON FIRE:
Organic Berry Cobblers
9:30pm – SUV Return trip home or to our casitas
10/16/22
8:00am Sunrise meditation
8:30AM ORCHARD HIKE
9:30 – 11:30AM SUNDAY BRUNCH by the pool:
Lox, onions, capers & bagels & veggie quiche served
with mimosa's with fresh locally squeezed juice & coffee
10;00am SPEAKER
11:00am – 1:00pm Peaceful Pool time available
1:00pm Day of Peace retreat complete!
1:30pm SUV transportation home