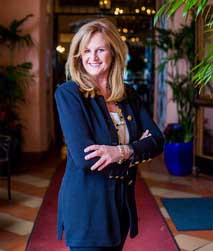 Jackie Helm is a San Diego native, graduating from the University of California, San Diego. Jackie holds a real estate broker's license and has been involved in over 150 real estate transactions, specializing in residential home sales, representing both buyers and sellers. Through careful planning and precise execution, Jackie makes her client's dreams a tangible reality. She has built her business on a personal and total commitment to professionalism and client satisfaction. She executes strategic, specifically suited marketing plans for each client, and implements those to the highest degree. Jackie is a 2021 recipient of the Coldwell Banker International Sterling Society award for exceptional performance, ranking among the top sales professionals in California.
In addition to a wealth of professional experience, Jackie believes deeply in the importance of supporting her community, and has a lengthy background in philanthropy, nonprofit governance and fundraising. She currently sits on the Board of Directors of Walden Family Services and recently completed four years as a Court Appointed Special Advocate (CASA) for Voices for Children. Both of these organizations respond to the profound needs of foster children, and touch the deep principle that all children deserve a loving forever home. In recent years she has served as Chair of the Las Patronas Jewel Ball; on the board of the National Charity League and the National Cheers Foundation; and as president of the Foundation of La Jolla High School.
Jackie lives where she works, and enjoys the beautiful San Diego lifestyle. She has three incredible daughters, and especially enjoys traveling to Europe, gardening in the glorious Southern California sunshine and reading.
Jackie is a Luxury Property Specialist and (LAREB) Licensed Associate Real Estate Broker.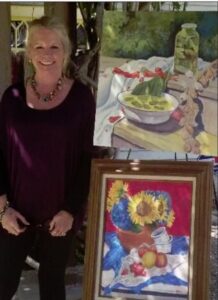 Leah Higgins is a native of La Jolla, California, residing part time in Lake Tahoe. Throughout the 70's and 80's she owned "The Ocean Toad", a retail store featuring surf inspired clothing, as well as the textile design and manufacturing companies "Toad Grown" and "Leah of California". Leah served as a freelance Fashion Designer, feeding her unique creativity into every article she created. With a growing family, Leah and her husband Pat, left the fashion industry to join the family business of nursing homes, settling permanently into Pacific Beach. Now, with 3 adult children, Leah has the time to put into her long standing passion for painting.​
Leah has created hundreds of paintings of everything from still life, landscapes, pets and people. Her paintings are often commissioned by real estate agents and new home owners to create a unique closing gift or moving announcement. Newlyweds have received her paintings as one of a kind gifts commemorating their special day, and private collectors have commissioned canvases of places and people special to them to be used as decorative pieces and greeting cards.